Web: Fletcher Allen Health Care Intranet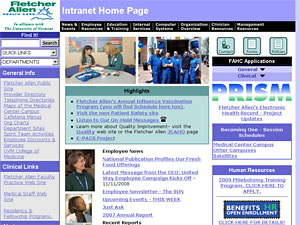 Fletcher Allen Intranet:
Home Page and Information Architecture
Anne acted as the project manager, designer, information architect, trainer, and content management developer for the Fletcher Allen intranet. The goal was to save time and money and to increase accuracy by providing online access to forms, policies, procedures, and any other information needed by the six thousand employees.
The information is organized with levels of security based on roles within the organization, so management has its own area, for instance. The site is built within a content management system, which allows non-technical employees within each department to populate their sites with department-specific information.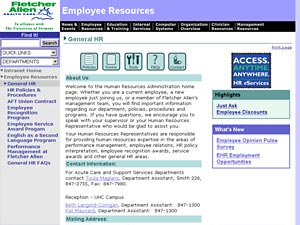 Fletcher Allen Intranet:
Departmental Home Page
To maintain sitewide consistency and ease of use, common elements are presented on each departmental Home Page. The side navigation follows a telescope approach, which shows links that are directly related to the section being visited. This saved screen real estate and kept the essential links within the viewable area.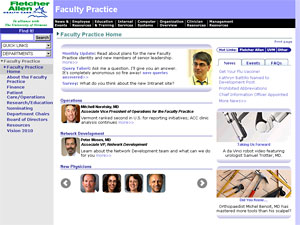 Faculty Practice Site
This is an intranet site for the Fletcher Allen faculty members who are also employed by the University of Vermont College of Medicine. The client requested functionality that they had seen on Netflix, CNN, and ESPN; therefore, the home page integrates such space-saving elements as a scrolling panel of new faculty biographies, drop-down menus, and tabbed panels for News, FAQs, and Events. The design received rave reviews.